Strengthening the Women, Peace and Security movement to enable more effective and inclusive policy-making for a more peaceful world.
Our Secure Future (OSF) believes that women make the crucial difference in achieving more effective governance and lasting peace. OSF aims to strengthen the Women, Peace and Security movement by amplifying women's voices, strengthening the global network of women peacebuilders, and promoting committed action by multiple stakeholders to turn policy into practice.
OSF strives to support the mandate of United Nations Security Council Resolution (UNSCR) 1325. Resolution 1325 is the first formal recognition by the international community of the critical roles women play in conflict prevention, conflict resolution, and peacebuilding, and brings attention to gender equality in all aspects of international peace and security decision-making.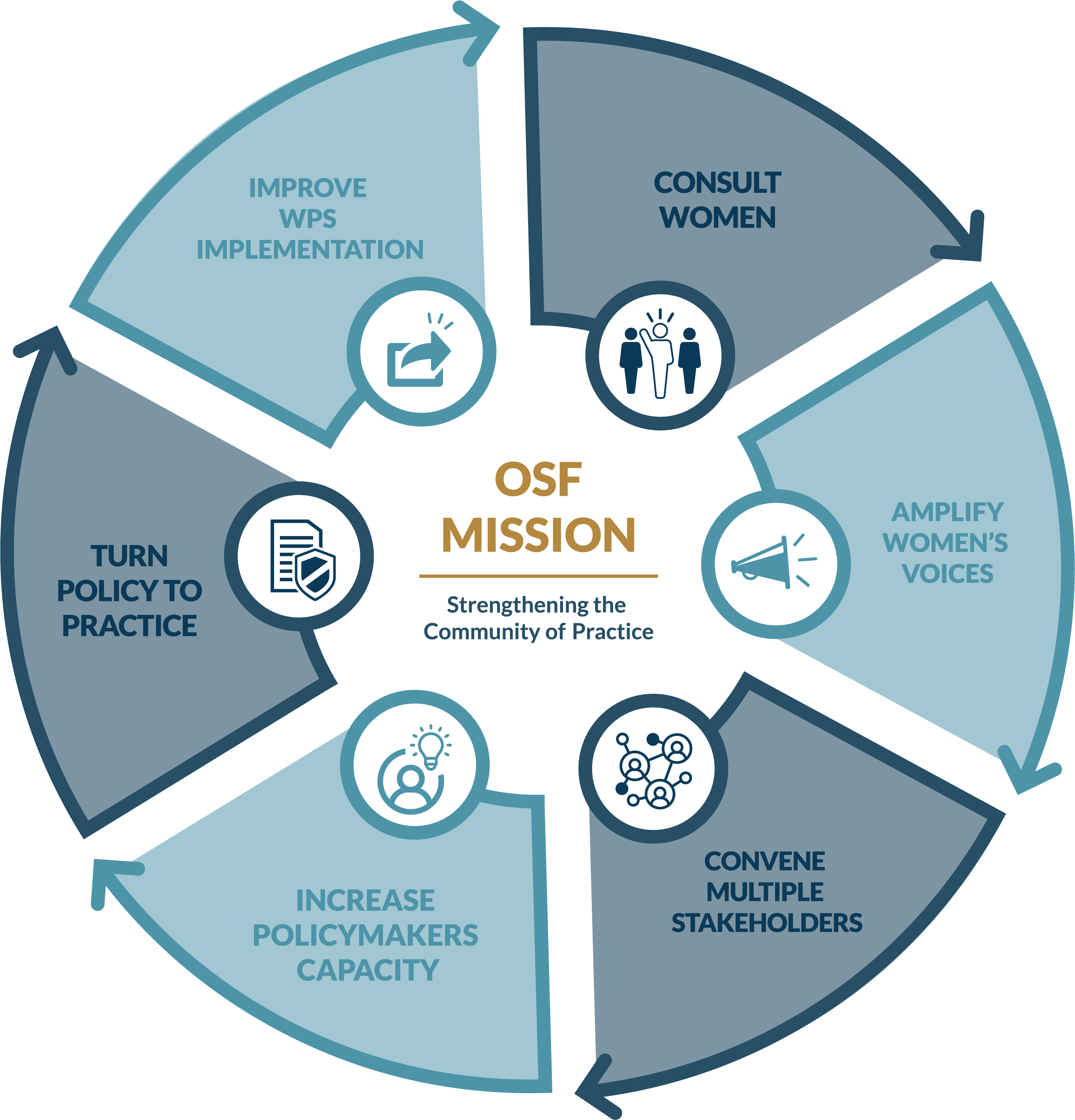 Enhancing implementation activities of UNSCR 1325 will allow for greater representation of women's perspectives in peace and security decisions. OSF works to enhance WPS implementation by supporting direct country engagement on WPS National Action Plans by OSF Fellow Miki Jacevic and providing technical assistance on integrating gender perspectives.
To turn policy into practice, OSF promotes committed action by multiple stakeholders. OSF has accomplished this by establishing the first bipartisan WPS Congressional Caucus, conducting civil society consultations and trainings, and providing policy recommendations.
The WPS agenda originated from a global constituency of women. Through partnerships and its membership in the WPS Civil Society Working Group, OSF collaborates with women to ensure a diversity of opinions and inclusive approaches. 
 
Women's contributions are necessary for the collective well-being of society. Sharing women's stories and elevating women to policymaking positions contributes to global peace and security. OSF amplifies the voices of local women peacebuilders by removing barriers to collaboration with civil society organizations and government agencies. 
 
OSF convenes multiple WPS stakeholders around the world to develop and advance a shared vision for the WPS agenda and drive peace through inclusive governance. 
 
Enhanced knowledge of UNSCR 1325 allows policymakers to see women as agents of change and connects 1325 to broader country goals. OSF provides technical assistance to policymakers to incorporate gender perspectives into policy.